SS-18V12 (12V 18W)
Menge
Preis
1 - 4
6,93

€

5 - 9
6,79

€

10 - 19
6,59

€

20 +
6,39

€
Price on request for order quantity from 50 pieces
Price plus VAT, plus shipping cost
Delivery time: 2-5 workdays inside EU
In stock
Description
LED Trafo 12V 18W constant voltage for LED Strip Lamp Furniture installation LED Driver Treiber Transformator
LED power supply for 12 Vdc constant voltage
1.5 A (18 W) max., IP20, Built-in installation, non-dimmable
| | |
| --- | --- |
| Input voltage (nominal) | 220…240 Vac |
| Mains Frequency | 50/60 Hz |
| Power Factor (λ) | >0.7   220…240 Vac |
| Input Current | 0.2 A max.   Full Load, 230 Vac |
| No-load loss | ≤0.3 W |
| Inrush Current | 10 A max.   Full Load, 240 Vac |
| Leakage Current | < 0.5 mA   240 Vac |
| Output Voltage | 12 Vdc   90…264 Vac |
| Output Current | 0…1.5 A   90…264 Vac |
| Output Power (nominal) | 18 W max. |
| Efficiency | ≥ 80.3 %   Full Load, 240 Vac, 25 °C |
| Life Time | > 30,000 h    25 °C |
| Dimmable | No |
LED Trafo 12V 18W constant voltage for LED Strip Lamp Furniture installation LED Driver Treiber Transformator
| | |
| --- | --- |
| Operating Ambient Temperature (ta) | -5…+50 °C |
| Max. Surface Temperature (tc) | 80 °C |
| Permitted rel. Humidity | 10…95 % |
| Protection Class | II |
| Type of Protection | IP20 |
| | |
| --- | --- |
| Short Circuit Protection | Yes * |
| Overload Protection | Yes * |
| Overvoltage protection | Yes * |
| Overheating protection | Yes * |
(*) The output shuts off and will be resumed, after problem is removed and led driver is restarted.
Standards (LVD)
EN 61347-1, EN 61347-2-13
Standards (EMC)
EN 61000-3-2, EN 61000-3-3
EN 61000-4-2, EN 61000-4-5
EN 55015, EN 61547
Approval Marks
CE
RoHS Compliant
Yes
LED Trafo 12V 18W constant voltage for LED Strip Lamp Furniture installation LED Driver Treiber Transformator
| | |
| --- | --- |
| Cable Length, input side | 180 mm |
| Cable Length, output side | 180 mm |
| Cable Cross-section, input side | 2x 0.75 mm² |
| Cable Cross-section, output side | 2x 1.02 mm² |
| Cable Preparation length, input side | 6 mm tinned |
| Cable Preparation length, output side | 6 mm tinned |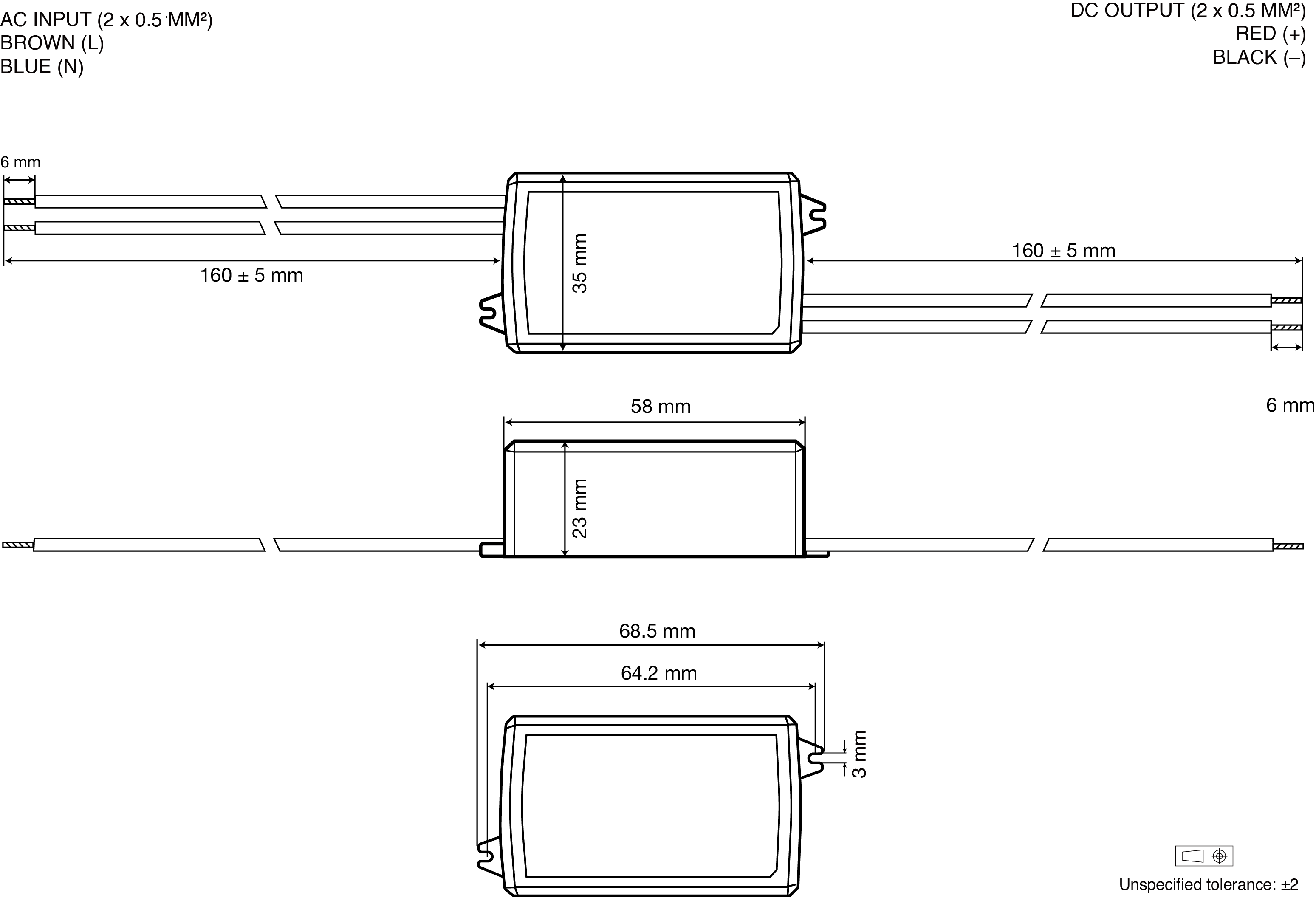 LED power supply SS-18V12: LED transformer constant voltage, input 220 – 240 V (AC), output 12 V (DC), not dimmable, installation installation.
Power: Ideal for LEDs (strips, lamps, GU5,3 / MR16, G4 / MR11) up to 18 W, parallel connection possible. Our products can be used with full load.
Assembly: dimensions 74 x 48 x 24 mm (L x W x H), ambient temperature (ta) -5 – +50 °C.
Safety: Protection class IP20, protection device overload protection, surge protection, short circuit protection and overtemperature protection.
Quality: CE approved; Service life > 30.000 hours; Surface temperature (tc) 80°C.
huatec led transformer power supply driver transformator 12v 12 volt dc constant voltage same voltage 18w 18 watt led strip lamp gu5.3 mr16 g4 mr11
LED transformer 12V 18W constant voltage compact size.
For business customer, who wants to order our porducts in large quantities or learn more about our new products, please contact us and download our product catalog.
Only logged in customers who have purchased this product may leave a review.